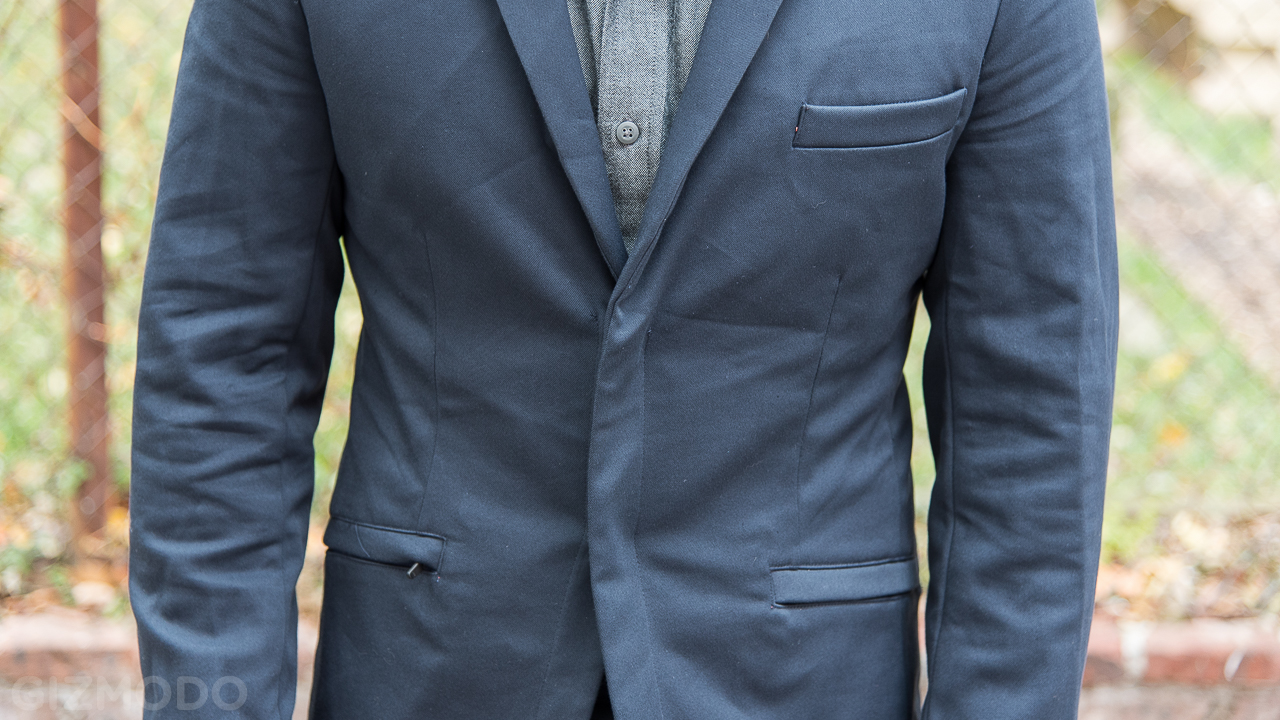 Written By
 Adam Fox
Five Types Of Confidence-Killing Clothes You Need To Get Out Of Your Closet
Clothes don't make the man? Turns out, there's real research suggesting a link between attire and attitude after all. While we've always known that looking good makes us feel good, we're just going to use it as yet another reason to get our closet cleaning on in this spring. So, in the spirit of the season (and science, of course), join us in quashing these five c*ck blockers that are taking up valuable wardrobe real estate right now.
Frumpy Suits
Whether you're a suit-and-tie guy on the regular or only the occasional big day at work, having one that fits is the critical factor in finding your boardroom bravado. Nothing else can command the attention of colleagues (or allow them disappear into doodles and emails) quite like a power suit. If yours still slump and slouch like the boxy silhouettes sold circa '96, it's time to climb the corporate ladder in something slimmer, trimmer, and indeed, more manly.


Photo courtesy of marc.st.amand
Frankenstein Shoes
What's a suit that goes on like a glove without equally sleek shoes to wear with it? In a word, worthless. Those clunky lug-soles or square-toed slip-ons with a bicycle toe (shoe speak for stitched seams that run parallel down the front) can cause any stock placed in you by the kids at the office water cooler — or worse, your boss — to plummet pretty fast. Box them up and invest in a classic brogue lace-up or double monkstrap.


Photo courtesy of mfrmagazine
Ugly Underwear
Bunched-up boxers and tighty whities that come in a ten pack are child's play that could leave you limp in the bedroom. Toss those sorry excuses for undergarments along with anything else showing signs of wear and tear, and regain your manhood in better-quality briefs. Hint: they're sold in quantities of three or fewer and don't contain any cheesy labeling on the waistband. The boxer-brief hybrid is an acceptable alternative for guys afraid of showing a little extra leg when dropping trou.


Photo courtesy of Puto
Baggy Bathing Suits
Still drowning in board shorts that swish with every step and live dangerously close to your knees? Maybe you were able to strut your stuff in them on spring break, but let's just say that was, um, a while ago. Don't worry — we're not suggesting you start sunning in a Brazilian-style banana hammock either. Manning up these days requires swimming somewhere in the middle. The more flattering fit for almost every guy can be found in cuts that stay closer to the actual leg line and have a hem that hits from mid-thigh to an inch or two above the knee.


Photo courtesy of robbzderko
Jeans That Are Too Long
Our cries to kibosh blinged out, bootcut denim have basically been heard. But when it comes to jeans (and frankly, just about every pair of pants you own), men are still making an insidious error: they're too damn long. The result is pooling at the leg that makes your jeans (and trousers and chinos) look baggy even when you've made every attempt to keep things on the slim side. Fortunately, a quick trip to the local tailor can get the length to live in the right neighborhood — nowadays, a place where it barely skims the top of your shoes. If you're pressed for time, a couple of casual DIY cuffs can likewise act as the liquid-less courage needed to make an approach and drop digits during your next night on the prowl.


Photo courtesy of ThirteenShop
Call us crazy, but we're willing to bet nothing good is going to come from looking like sh*t. And we don't need any scientific study to tell us that.